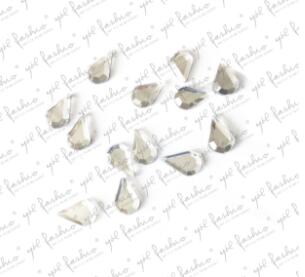 Hotfix rhinestone is also called hotfix rhinestone and hotfix strass or Iron on rhinestone. Just as its name implie, the hotfix rhinestone's materials are glass. The main combination are glass, tinfoil, paint and ABS or powder.
But how can be the glass made into any sizes and color which is wanted?
That is a good question. Now let me have a breif introduction.

At first, all the chemical and colors shall be mixxed together and put under a high tempreture stove, after 7-8 hours, the mixxed materials will be melted into the glass water.

And then the glass water to be put into each wanted moulds, then it will be made into different size and styles as we wanted.
It is very easy to finish not so that much hard.

Know more hotfix rhinestone, please take care our website.